This is a complete Jesel Dogbone Retainer Kit with hardware. Select the size to match your lifters. These kits are very hard to find kit to mount Jesel Dogbone Lifters. As you can see in the illustrations below, these parts are used to keep the lifters in place and prevent rotation in the lifter bore. All of the parts needed are included. All you have to do is supply the lifters to complete the setup.
Here are the specs on this set:
Engine Type: Chevy SB2 Block
Dogbone Part #: BIL1 & BHL1 (.875') or CIL1 & CHL1 (.905")
Includes: 8 Dogbones, 8 Lower Spacers, 8 Upper Spacers, 8 ARP 12pt nuts, and 8 hardened studs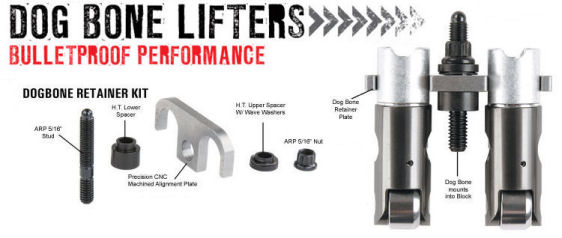 Dog Bone Roller Lifters get their name from the O.E. style dog bone shape alignment plates that are bolted to the cylinder block for cam/roller alignment. JESEL's Dog Bone Roller Lifters are lighter than traditional tie bar styles of lifters and can be easily installed in the home workshop using JESEL's Dog Bone Installation Fixture. These roller lifters are ideal for most forms of racing. Note: This listing contains stock photos. Product may vary slightly from photos based on current inventory.